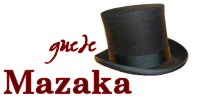 Tangible Schizophrenia
Causality
Author: Guede Mazaka
Rating: PG to NC-17.
Pairing: Arthur/Lancelot, Beatrix/Elle, Gawain/Galahad, Guinevere/Tristan
Feedback: Good lines, bad ones, etc.
Disclaimer: These versions arenít mine.
Notes: Modern-day AU. Crossover with Kill Bill; spoilers for both volumes. Proceeds from the end of Vol. 2
Summary: For the last five years, Arthur has been living the quiet life in suburbia. But recent events in the world of assassins soon see his past hammering at his door.