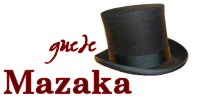 Tangible Schizophrenia
Shapes
Author: Guede Mazaka
Rating: PG-13 to NC-17. BDSM.
Pairing: Sands/El, Fideo/Ramirez.
Feedback: Constructive crit. is lovely, but anything you'd like to say is welcome.
Disclaimer: Not mine, dammit.
Notes: //words// in Spanish. Psychic!El, Psychic!Fideo and slight supernatural overtones. Am assuming Sands has eyelids, and has had eye-reconstruction surgery.
Summary: Rehabilitation is not for the faint-hearted.