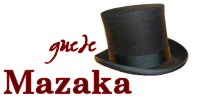 Tangible Schizophrenia
Sleuth
Author: Guede Mazaka
Rating: PG-13 to NC-17
Pairing: Combinations of Jack/Will/Elizabeth/James (Norrington)/Anamaria
Feedback: Always welcome. In fact, I'll beg. Pretty please?
Disclaimer: Belongs to other people and mice.
Notes: Anamaria curses in French ('le con' is 'cunt', while 'un con' is moron/asshole/dumbass; when Anamaria says just 'con', it's meant as 'dumbass'). Full translations provided upon request. Family legend based on real New Orleans locations and stories.
Summary: Christmas in the Caribbean (and various other places).