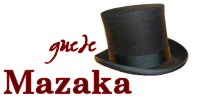 Tangible Schizophrenia
Trio
Author: Guede Mazaka
Rating: NC-17.
Pairing: Sands/El/Carolina
Feedback: Yes, please.
Disclaimer: Man, if they were mine…
Summary: Three paths cross, and Culiacan is never the same.
Notes: Set around the 1870s in a parallel Mexico. Not really historically accurate. AU combo of Desperado and Mexico, with references to El Mariachi.