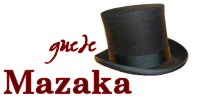 Tangible Schizophrenia
Restraint
Author: Guede Mazaka
Rating: NC-17. BDSM and gunkink. Noncon, rape issues. Nasty uncute sex.
Pairing: Sands/El
Feedback: Would love some.
Disclaimer: Way too damn pretty to belong to a peon like me. Bow to Robert Rodriguez and his back-up band.
Summary: Sands and El are not nice men. Their relationship, naturally, is not exactly simple.