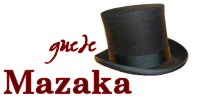 Tangible Schizophrenia
Fractal
Author: Guede Mazaka
Rating: PG-13 to NC-17. Violence, sex, and often both.
Pairing: Eventual Sands/El, Sands/Ajedrez.
Feedback: Good lines, bad lines, etc.
Disclaimer: Not mine.
Notes: Experiments in style and structure.
Summary: A fractal is a mathematical concept that is eternally propagating. In some ways, it mirrors the way a man's life plays out..