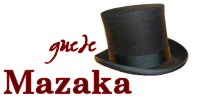 Tangible Schizophrenia
Youth
Guede Mazaka
Rating: PG to PG-13
Pairing: None. Gen.
Feedback: What you liked, what you didnít, etc.
Disclaimer: These versions arenít mine.
Notes: Fic takes place soon after the knights first arrive in Britain, so I figure Arthur for 18 and the others a couple years younger. I put Guinevere as a couple of years younger than Lancelot, so sheís around eleven here.
Summary: Snapshots of growing up.