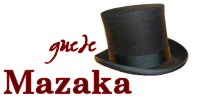 Tangible Schizophrenia
Wolfskin
Author: Guede Mazaka
Rating: NC-17. Sex, violence, character death.
Pairing: Arthur/Lancelot, Arthur/Guinevere/Lancelot, Gawain/Galahad/Tristan
Feedback: Good things, bad things, etc.
Disclaimer: Not mine.
Notes: AU with supernatural elements; not entirely historically accurate due to that, though Iíll try to put in as many real details as I can. Arthur was first sent to Sarmatia to help gather conscripted knights, then to Britain.
Summary: Arthur's knights are bound together by more than mere circumstance.