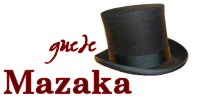 Tangible Schizophrenia
Vice
Author: Guede Mazaka
Rating: PG to NC-17.
Pairing: Arthur/Lancelot, Arthur/Guinevere, Arthur/Lancelot/Guinevere. Some Gawain/Tristan/Galahad.
Feedback: Good lines, bad ones, etc.
Disclaimer: These versions arenít mine.
Notes: Film noir AU. Makes little attempt to be really historically accurate, and much effort to both be true to genre tropes and to riff on them. Supernatural stuff.
Summary: Fate throws up one hell of a mystery on Lancelot's doorstep. With green eyes.