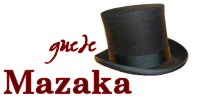 Tangible Schizophrenia
Party
Author: Guede Mazaka
Rating: NC-17. Sex, bad humor and unorthodox cursing.
Pairing: Sands/El, Lorenzo/Fideo
Feedback: Would appreciate any bone you throw my way.
Disclaimer: Characters and general background belong to R. Rodriguez, etc.
Notes: //words// in Spanish. Mexican town names randomly chosen from here.
Summary: After the movie, Sands and the mariachis cross paths once more...but
not exactly in an expected way.