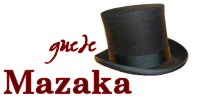 Tangible Schizophrenia
Snap
Author: Guede Mazaka
Rating: PG-13 to NC-17. Gender-switching, graphic violence, sex..
Pairing: John/Balthazar
Feedback: Good lines, bad ones, etc.
Disclaimer: Does not belong to me.
Notes: Post-movie, crossover with The Ninth Gate. See individual parts for specific notes.
Summary: John accidentally turns himself into a girl. Then he gets company. And then he gets trouble.