The Reason for the Mad Season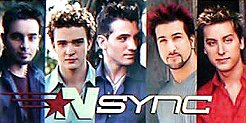 Not foolish ALL the time.
Pictures of the boys that remind me why I like them, even when they've been making fools of themselves at awards shows. And yes, the boys are listed roughly in order of my most favoritest to the one who makes me break out in a sweat the least often. Which is not to say he doesn't - he does, all the time, yo. Anyway. Also, some of my favorite group pictures.


Chris | Chris 2 | Joey | Joey 2 | JC | JC 2 | Lance | Justin | Group Pics | Group Pics 2 | Group Pics 3 | Group Pics 4


And a special JC/Lance page, The Lean
Fics | Pics | NonSync | NonFic | Links | Bio | Home | E-mail me