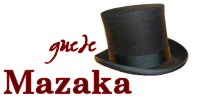 Tangible Schizophrenia
Deal
Author: Guede Mazaka
Rating: NC-17. Torture, semi-noncon and rape, graphic violence.
Pairing: John/Balthazar, some John/Lucifer and John/Midnite.
Feedback: Good lines, bad ones, etc.
Disclaimer: These versions arenít mine.
Notes: AU. Balthazar is human and Johnís a demon, but Midnite still owns a bar.
Summary: What happens when people don't bother to coordinate their plotting.